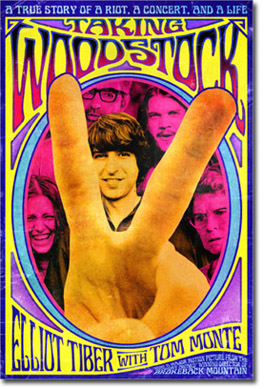 New paperback edition

Published by Square One Publishers,
Garden City, Long Island, NY.


Before there was a Woodstock Concert, there was Elliot Tiber working to make a go of his parents' upstate New York hotel, the El Monaco. It wasn't easy. The Jewish clientele who had returned to the Catskills year after year had discovered Florida, and the upstate hotel business was dying.
To

save his family's livelihood, Elliot put on plays, musicals, and local festivals. In the process, Elliot became the area's official issuer of event permits–not that anybody else wanted that position. Elliot even worked weekends as an interior design artist in New York City, all in the hopes of helping his family.
In

the summer of 1969, Elliot Tiber's life changed in a way he never could have foreseen. Greenwich Village had become the mecca for gays in America. There, Elliot had socialized with the likes of Truman Capote, Tennessee Williams, Andy Warhol, and a talented young photographer named Robert Mapplethorpe, and yet had managed to keep his gay life a secret from his family. Then on Friday, June 27, Elliot walked into the Stonewall Innand witnessed the riot that would galvanize the gay movement in the United States. And on July 17, when Elliot read that the Woodstock Concert promoters had lost their license to stage the show in Wallkill, he called to offer his help in finding a new venue. In the days that followed, Elliot found himself swept up in a vortex that would change his life forever.
The

events that unfolded during that hot New York summer have come to be recognized as major turning points in our cultural history. Few, however, have enjoyed Elliot Tiber's unique view of those events. Taking Woodstock is the funny, touching, and true story of the man who enabled Woodstock to take place. It is also the personal story of one man who took stock of his life, his lifestyle, and his future. In short, Taking Woodstock is like no history of Woodstock you have ever read.